Benefits of Dental Implants

Fairbanks, AK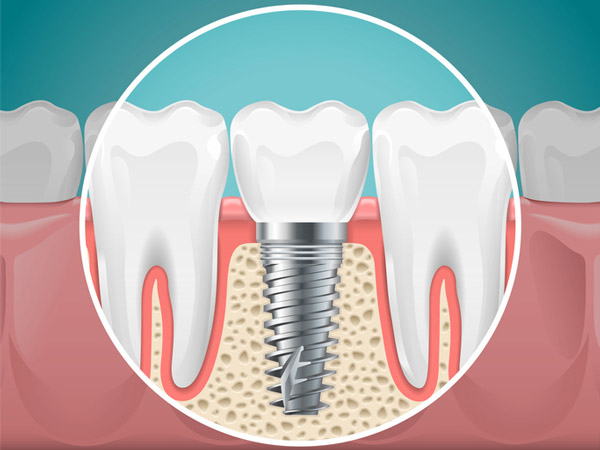 Many people suffer from tooth loss; the major reasons are injury, tooth decay, or gum disease.

Thanks to advancements in science, multiple treatment methods are available for missing teeth, and the most popular among them are dental implants. At Fairbanks Periodontal Associates, Dr. Webster recommends getting dental implants because they are a permanent, stable, and reliable solution.


Types of Dental Implants

A dental implant is a structure that replaces the missing teeth with the help of screw-like devices. The implant is inserted into the jawbone and provides a strong foundation for artificial teeth to be placed upon.

Multiple types of dental implants are available based on the type of procedure used to place them, such as:

| | |
| --- | --- |
| • | Two-stage implants: First, the implant is placed into the jawbone, and the gums are stitched closed. After several months of healing, an abutment is attached, and temporary restoration occurs. Endosteals are used for two-stage implants and are placed in the jawbone. They are available in bladed, cylinder, and screw types. |
| • | Single-stage implant: Here, a longer implant is surgically implanted into the jaw and aligned with the top level of the gum tissue. Thus, the implant's healing cap is visible when the gum tissue is stitched closed. After several months of healing, abutment attachment and temporary restoration occur without requiring minor surgery to expose the implant. |
| • | Subperiosteal: The dental implants are placed on the jawbone within the gum tissue. These are primarily used to hold dentures in place in patients with insufficient bone height. |
Advantages of Dental Implants

There are multiple advantages of dental implants, such as:

| | |
| --- | --- |
| • | They are comfortable and don't present any of the discomforts of dentures. |
| • | They offer a permanent solution as they are designed to fuse with the bone. Thus, they appear more natural. |
| • | Dental implants don't affect the surrounding teeth, nor do they have to be adjusted to fit another implant. |
| • | Dental implants improve overall oral hygiene and health and prevent periodontal diseases. |
| • | They work like natural teeth, and you don't have to remove them while eating or drinking. |
Risks Associated with Dental Implants

Despite the advantages, there are certain risks associated with dental implants. Although current technology has made this treatment method 97% successful, this success can vary depending on a few factors.

| | |
| --- | --- |
| • | Damage to the surrounding teeth and tissue during surgery. |
| • | Systemic infection, local infection, or delayed healing can lead to implant body failure. |
| • | Individuals can face difficulty cleaning the gums around the implant, leading to poor oral hygiene or periodontal diseases. |
| • | Inadequate function or abutment loosening. |


Dental implantation is a relatively safe procedure for replacing missing teeth and can be done in adolescence or when bone growth is complete. The following are the steps involved in a dental implant procedure:

| | |
| --- | --- |
| • | Extracting the damaged tooth. |
| • | Preparing the jawbone for grafting if the jawbone is not strong enough to support the implant. |
| • | Placing the dental implant and allowing the bone to heal and grow to provide a solid surface for the artificial tooth. |
| • | Placing the abutment attachment, and once the gums heal, adding the artificial tooth. |
Contact Us for a Consultation Today

To schedule an appointment at Fairbanks Periodontal Associates for dental implants, call us at (907) 455-7100 today.