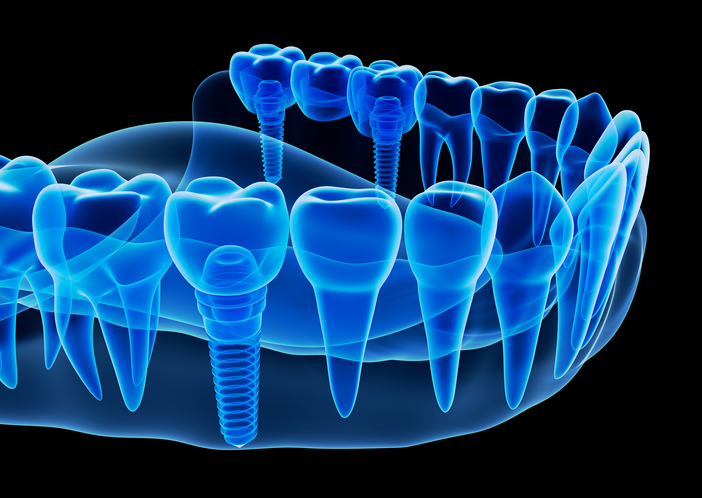 If you're missing teeth and need

dental implants

that truly resemble natural teeth, then here at Fairbanks Periodontal Associates, we can help. Dental implants are placed in the mouth and jaw and will look and act just like natural teeth.


How It Works

Aside from helping maintain your mouths pleasant aesthetics, dental implants can also help in the preservation of your mouths general structure. This is because they keep other teeth from moving out of place in ways that aren't natural at all and can result in much pain.

Dental implants consist of an artificial tooth that sits on top of a metal post. The implant is secured to the gumline so it can help the remaining teeth keep their structure and allow you to bite and chew as usual.

The dental implant operation substitutes a metal post similar to a screw in the empty root space of the missing tooth where it is possible to place an artificial tooth. The artificial teeth seem and behave as real ones, so this sort of surgery can be an excellent alternative to wearing dentures or bridgework that performs inadequately.

Depending on the type of implant you get and the health of your jawbone, the dental implant operation can be conducted in multiple stages. The jawbone will need to bind closely around the dental implant region as if it were a normal root.

The implants are put in the jawbone through surgery and act as the root or "core" of the inserted artificial tooth. For this treatment, titanium is often used because it fuses to the jawbone and the implant, stays strongly in location, and will not get weaker like some types of bridgework.


How the Initial Evaluation Works

Due to the need for multiple surgical procedures for dental implants, we'll have to perform a complete and thorough assessment, including x-rays and teeth designs, to guarantee that the dental implants fit your natural teeth accurately.

Afterward, your jawbone's situation will be evaluated depending on how many teeth you intend to replace with implants. This planning procedure might involve multiple types of dental specialists from our office, so it's highly likely that this won't be a fast process.

Also, we'll need to know about any medical situations you have as well as if you're taking any medications, even those that you've purchased OTC (over the counter). If you have a heart condition or even implants that are orthopedic, we also need to know. This is because we might need to use specific antibiotics to keep infection at bay.

During your consultation, we will discuss the 3 available anesthesia options and determine which is the best one for you. So, if you still haven't, talk to your friends and family to ask them to take you to your surgery and pick you up afterward, since it won't be safe to drive in your condition.

For more information about dental implant placement, call the experienced professionals here at Fairbanks Periodontal Associates at (907) 455-7100 today! We look forward to hearing from you.